Today I Loooooove...
Yellow!


Several years ago, I read an article by a woman who went into a museum that had an exhibit displaying sulfur. She described how intensely yellow it was and how the beauty of the color made her cry. At the time, I thought that was quite a silly response to a yellow rock.... but it stuck with me. I tend to remember that article when thinking about color. I'm one of those people who could spend all day in the paint aisle of Lowe's contemplating

exactly

which shade of magenta is the best. And I know that turquoise is Pantone's 2010 color of the year. I really love color.
I hope one day I'll find the color that makes me weep like that lady in the museum.

But for today, I love yellow. Bright, sunny, lemony, almost acidic yellow. Here are some pretty yellow things:


From Old Navy. I just ordered this dress in blue for a wedding and I wish I could have it in yellow, too!


Original Wayfarer Ray-Bans. I'd love to have a pair, but I lose sunglasses too quickly to buy any that cost over $20. And these definitely cost waaaay over $20.


Isn't this the BEST tea infuser EVER?! I know, it really is. Find it HERE.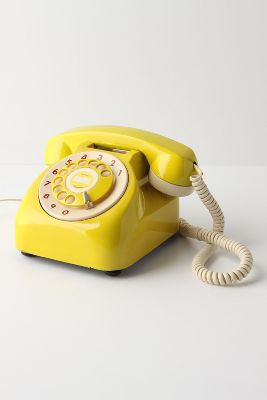 My grandma had a rotary phone when I was a kid. I learned how to use the telephone on it. Then I had to learn all over with buttons. Ha. From Anthro.
You Are My Sunshine print from Etsy


La La Love You SparklePower poster. Who doesn't love The Pixies?


Vintage Chili Bowls found on Etsy.


Herman Chair from IKEA.


Cupcake liners from Bake It Pretty.


Yellow Chucks. Size 9, please!



And even though I'm not a huge Coldplay fan, could I really do a

yellow

post without this song?....



Yellow from Joe Rosales on Vimeo.




xoxo